We are in the process of rebranding to 2Toucans and will be launching a new website soon.
TamShar Art Collections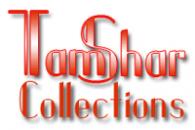 TamShar Collections has been operating since 2005, and specialises in Innovation & Creative Art & Design, from commission pieces of artwork, pottery, sculptures to product and furniture design all of which have been sold to friends, family & work colleagues, who have helped to promote what they do by spreading the word. The Product and Furniture Designs see the new ranges "Jigbi" and the "Peek-a-Boo" soon to be launched. They are available here on TamShar Collections website and in leading designs stores, so watch their space.